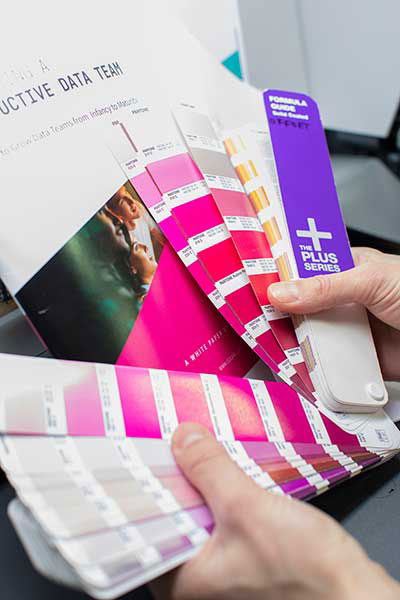 Printing Services for the Marketing & Advertising Industry in NYC
A lot has changed since the era of "Mad Men," but not the importance of high-quality printed materials that make a big impression on clients. Bestype understands that printing those brochures, presentations, pitch books, annual reports and event materials marks the last step in hours of hard, creative work.
We'll help bring your designs to life with high-quality printing and utmost attention to detail. Check out the types of advertising and marketing printing services we can provide for the marketing and advertising industry below.
Brochure Printing
Brochure printing is a cost-efficient way to convey a message and make a lasting impression. Brochures are often the crucial first step in making a sale, useful for trade shows, conventions, direct mail advertising, and point-of-purchase that yield a return on investment.
As a leading brochure printing company in New York, Bestype offers rush brochure printing services for clients that have a sense of urgency. Our staff is committed to providing brochure printing rush services and all-around customer service. Bestype can take your ideas, words, or images and design eye-catching promotional pieces. Or, if you already have print-ready art, we can print or copy your document on a variety of stocks. Don't need color, or want to print on a budget? We also offer black and white printing services.
Ask about our flexible folding and finishing choices to add a finishing touch to your set of brochures.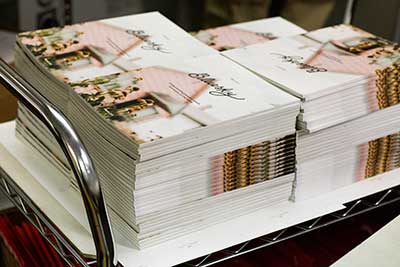 Annual Report Printing
If there's any time to make sure your printing is perfect, it's your annual report, as no single piece says more about the professionalism of your business. To guarantee your report is designed and printed without a hitch, work with the pros. Bestype offers high quality digital printing to meet your fast turnaround times, and offset printing for large-volume projects with a professional finish. Bring us your content, and get your report started today.
No matter the size of your company or team, we want you to think of Bestype as your long-term partner for all your professional printing needs.
Flyer Printing
Planning an event and want to get the word out all over the city? Bestype can help you design and print flyers to make a real impact on your event. Flyers are used nationwide to spread an important message or increase attendance of events by all types of businesses. We're happy to help you with design, paper choice, and so much more. Stop in today or give us a call for a quote!
Point-of-Purchase Material Printing
No other marketing piece has such an immediate impact as point-of-purchase materials. We'll help you capture the full potential of this medium through materials no passerby can ignore. Whether you want larger-than-life displays or small, powerful counter signage, our design and printing professionals will help you make a statement that sticks. New, diverse point-of-purchase options give you more flexibility than ever before.
You've got a message, and our team can help you communicate that message loud and clear. Bring us your ideas and we'll help you produce a brochure, booklet or sales sheet that can grab attention and pull readers in. We work with businesses large and small, from local shops to major corporations. Our knowledgeable team will take the time to get you the results and image you want to share to make your company stand out.
Stop in today and we'll show you some samples of what we can do, or simply get a quote now!