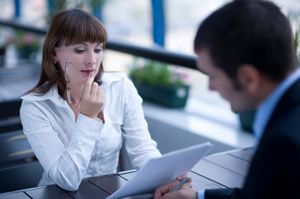 NYC Printing Services FAQs
Below you'll find answers to common questions that our clients ask regarding print products and services. Start by selecting one of the helpful links below. If you can't find what you're looking for - call us directly for print advice, a print quote, or to speak to one of our digital printing experts.
At what resolution should I save my photos and graphics?

Resolution should be set to 300 dpi.

Pictures and graphics pulled from the internet are often low resolution, typically 72 dpi or 96 dpi. Avoid these graphics, as they will appear pixilated and blocky when printed.

It's also important to note that you should save all photos in CMYK mode, not RGB mode whenever possible. Images saved in RGB mode may not print properly. If you are unable to save your image in CYMK mode, please let us know.

What file format should I use when submitting my electronic document for printing?

PDF (Portable Document Format) is the most common and preferred file format for submitting digital documents. With the installation of a PDF print driver on your computer, virtually any program can generate a PDF file suitable for printing. Both commercial and free PDF print drivers are available online for download from different sources.

What is "Bleed"?

Bleeds

Bleed definition: when any image or element on a page goes off the sheet, extending beyond the edge of the sheet, leaving no margin, it is said to bleed. Printers cannot print right to the edge of a page, so a slightly larger impression must be printed and then trimmed back with a cutter. It may bleed or extend off one or more sides. Photos, images, clip art, and decorative text elements can all bleed off the page.

Bleeds allow you to run artwork to the edge of a page. On a press, the artwork is printed on a large sheet of paper and then trimmed down to size. If you do not allow for a 1/8 of an inch bleed, any misalignment while cutting will result with the artwork not running to the edge of the paper.

The following illustration shows the basic idea of how bleeds should look in your final document.