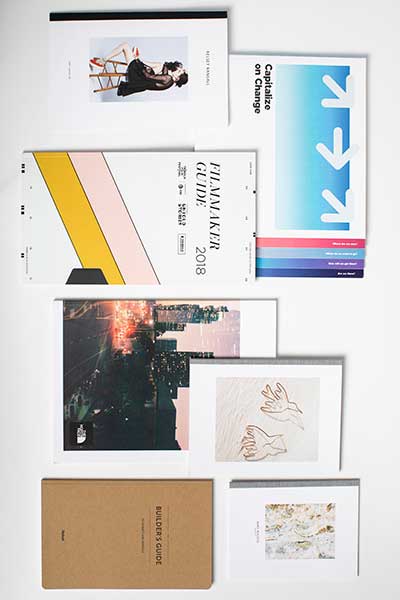 Bestype is proud to serve the New York print industry. From magazine publishers to independent authors and artists, we love working with you to bring your content to life. Learn more below about Bestype's book and magazine printing services in New York City.
Book Publishing & Book Printing in NYC
Despite the ever-growing popularity of e-readers, many New Yorkers still turn to books as their preferred medium, and we're right there with them. There is no better feeling than opening up a book, smelling that delicate perfume of ink and paper, and physically turning each page as you work your way through a story. Bestype offers the high-quality book printing and publishing service here in New York City to provide that joy to both writers and readers throughout the city. We specialize in limited editions, artist zines, advertising pitch books, fashion lookbooks, and portfolios for architects, photographers and artists.

With several different options of paper, cover stock, and binding available, we'll make your work come to life exactly as you envision it. Our team of printing advisors will work with you at every stage of the process to make sure the fonts, images and layout are crisp and legible.
Types of Binding Available
• Perfect bound
• Wire bound (also called coil or spiral bound)
• Saddle-stitch (staples)
Get a quote for your book printing project today and get ready to hold a beautifully bound book in your hands!
Magazine Printing in NYC
With magazines, your design, layout and printing all work together to tell a story. Let our magazine printing services team help you tell yours in living color with eye-catching design and professional content layout. We specialize in limited editions that you want readers to hold on to for years to come.

Once your file is ready to print, we apply the latest full-color processes for vivid, sharp printing on any paper stock. The fact that all our magazine printing is done from our NYC shop means that you can drop in at any point of the process to make sure your magazine proofs are exactly as you envisioned.

Contact us today to discuss your magazine printing project, including cover and paper stock options.
Booklet Printing in NYC
Custom booklet printing is a great way to advertise and stand out from all the competition in New York City. Bestype's booklet printing services include everything from pitchbooks and programs to directories and lookbooks — even comic books. We can take your print-ready file and fit it to your desired booklet dimensions.

A variety of binding options are also available including saddle-stitch, wire-o and perfect binding. Bestype can produce full color booklet printing services through digital or offset printing.

In order to best cater to local residents, Bestype offers rush booklet printing services in NYC. Our staff excels in providing high-quality booklet printing rush services at a moment's notice to provide a competitive advantage and a return on your investment.
Get a quote on same-day or next-day booklet printing, or call Bestype at 212-966-6886.